Designed for wildfires. Trusted by doctors.
Regular price
Sale price
$1,399.00
Unit price
per
Sale
Sold out
Transform your home with Jaspr – the ultimate air purification solution. Featuring HEPA filtration, real-time air quality monitoring, and a sleek, modern design. With a lifetime warranty, the Jaspr Pro is the last air purifier you will ever need to buy.

3rd party tested & verified

Lifetime warranty

Free, fast shipping
What Makes Jaspr Special?

Powerful performance with a Clean Air Delivery Rate (CADR) of over 600, Jaspr removes over 99% of airborne pollutants.
Quiet operation at only 30 decibels (the same as a whisper).
Beautiful, steel-body design that blends in seamlessly with the aesthetic of your room.
Isn't Jaspr Expensive?

Yup. We're aware. Jaspr isn't the cheapest option out there. So, what justifies its premium price?

#1, the technology. Our advanced purification system captures 99.9% of particles as small as 0.15 microns. Plus, our commercial-grade sensors work to proactively detect and respond to threats in your air. This isn't just about filtering air; it's about doing it as effectively and efficiently as possible.

#2, the manufacturing. You're trusting us with filtering your air, and we take that very seriously. We're not just selling an air purifier; we're offering a promise to hold our product to the highest standard. To uphold this, we've partnered with manufacturers who share our commitment to quality, durability and sustainability.

#3, the quality-control. Trusting us with the air in your home is a big deal. We get that. So, we've ramped up our quality control measures to ensure every Jaspr unit meets our stringent standards.

When you break it down, our production costs are significantly higher than your average air purifier. We could cut corners, but then it wouldn't be Jaspr. Our pledge? With Jaspr, you're always getting the best value for your money.
Lifetime Warranty

We're so confident in the quality and craftsmanship of Jaspr Pro that we offer a lifetime Warranty with filter subscription.

Most other purifier companies will only offer a short-term warranty.

In addition, we offer a full money back guarantee if you're unsatisfied with Jaspr for any reason within the first 30 days.
What's in the box?

1 Jaspr Pro
1 Pro Filter
1 Power supply cable
Quick-start guide
Lifetime Warranty
Specifications

Coverage: up to 1,600 sq.ft. with 8-ft ceilings
Power: 73W, 1A
Rated Voltage: 100 - 120V, 60 Hz
Sound Level: 33 dBA (whisper) - 58 dBA
Filter Lifespan: up to 6 months
Efficiency: captures 99,9% of particles ≥ 0.15 microns
Effectiveness: 430 CFM airflow rate for max output
Dimensions: 31.5 in x 11.5 in (80 cm x 29.2 cm)
Weight: 25 lbs (11.34 kg)
Backed by a Lifetime Warranty —The highest build quality available in a home air purifier. Our lifetime warranty covers all parts, when purchased with a filter subscription.
View full details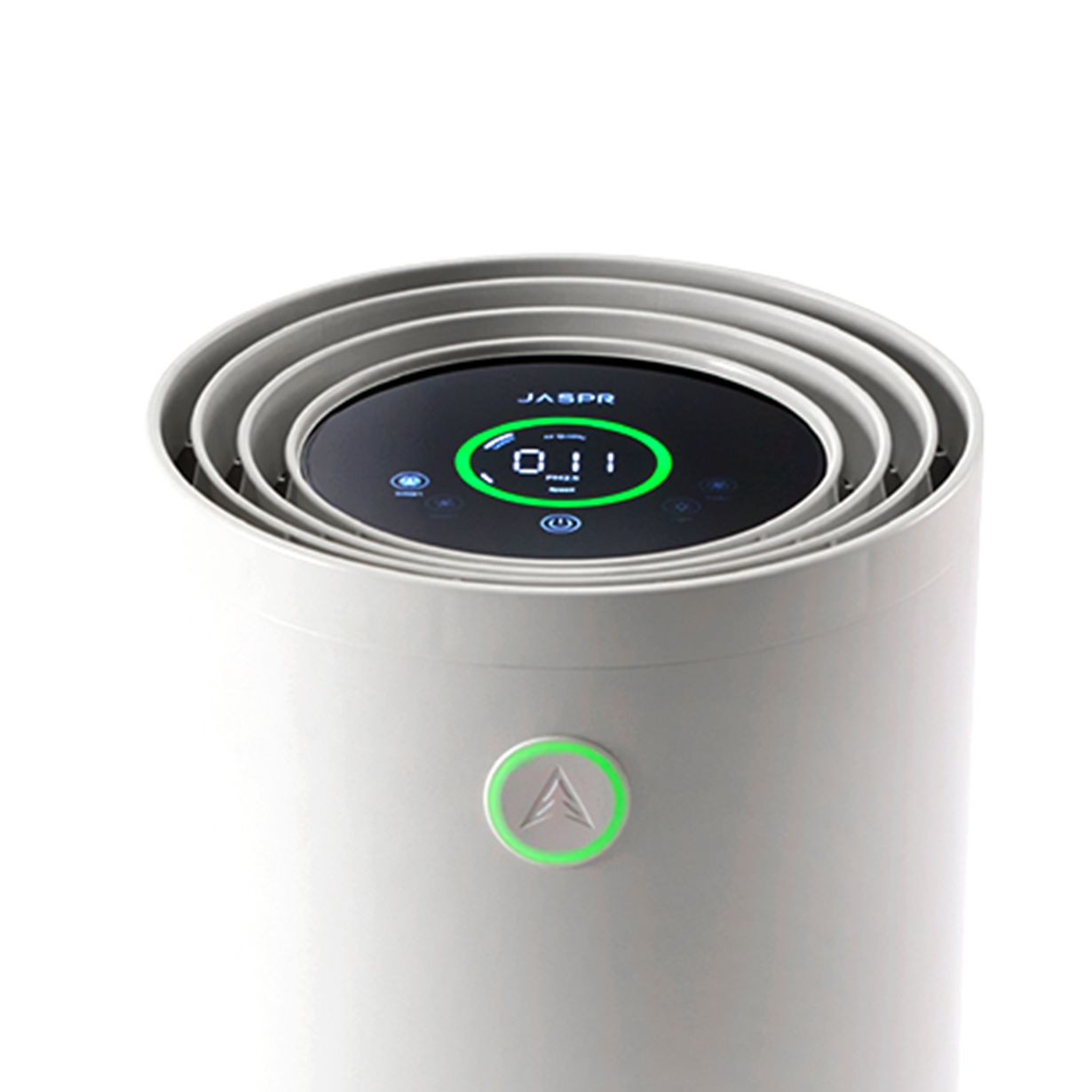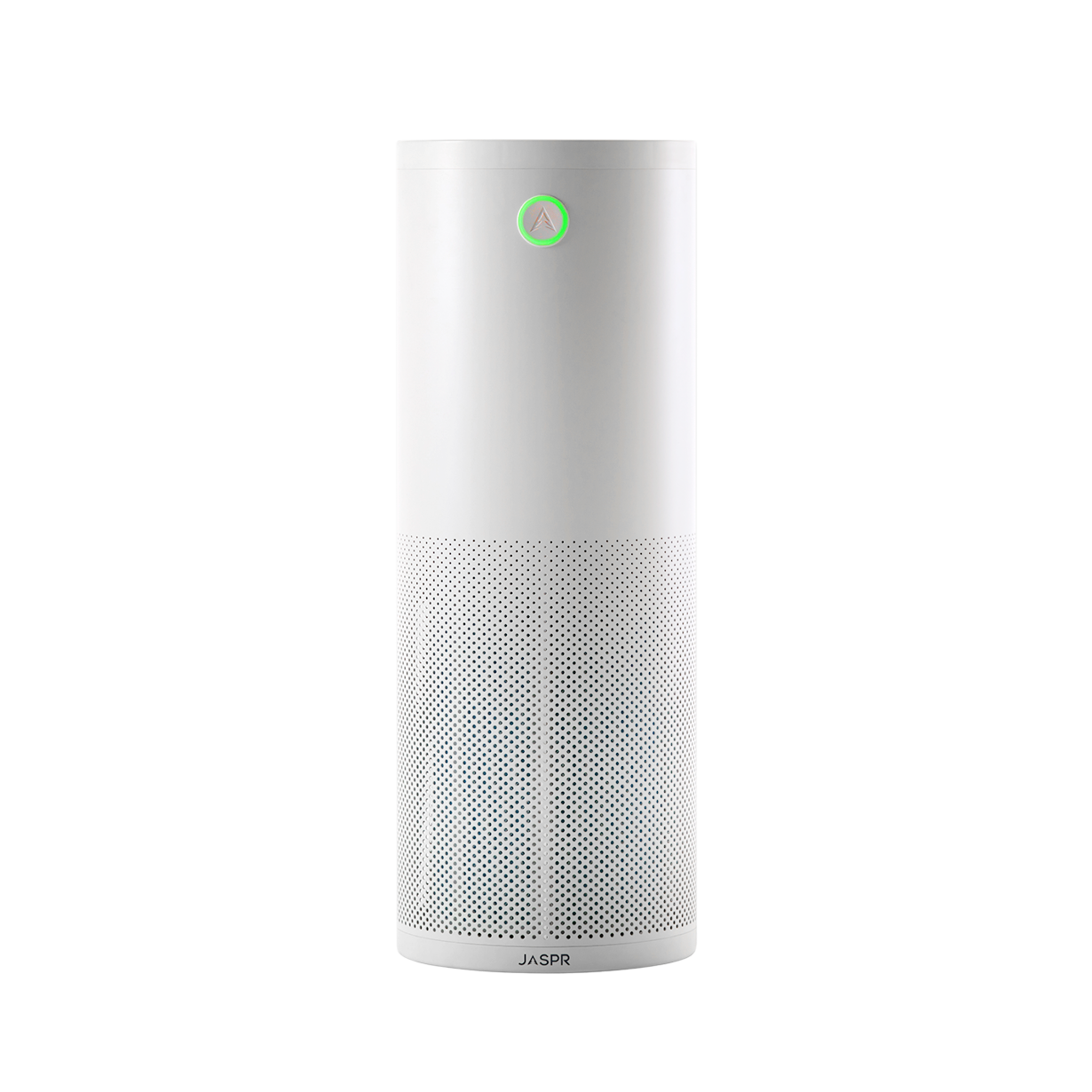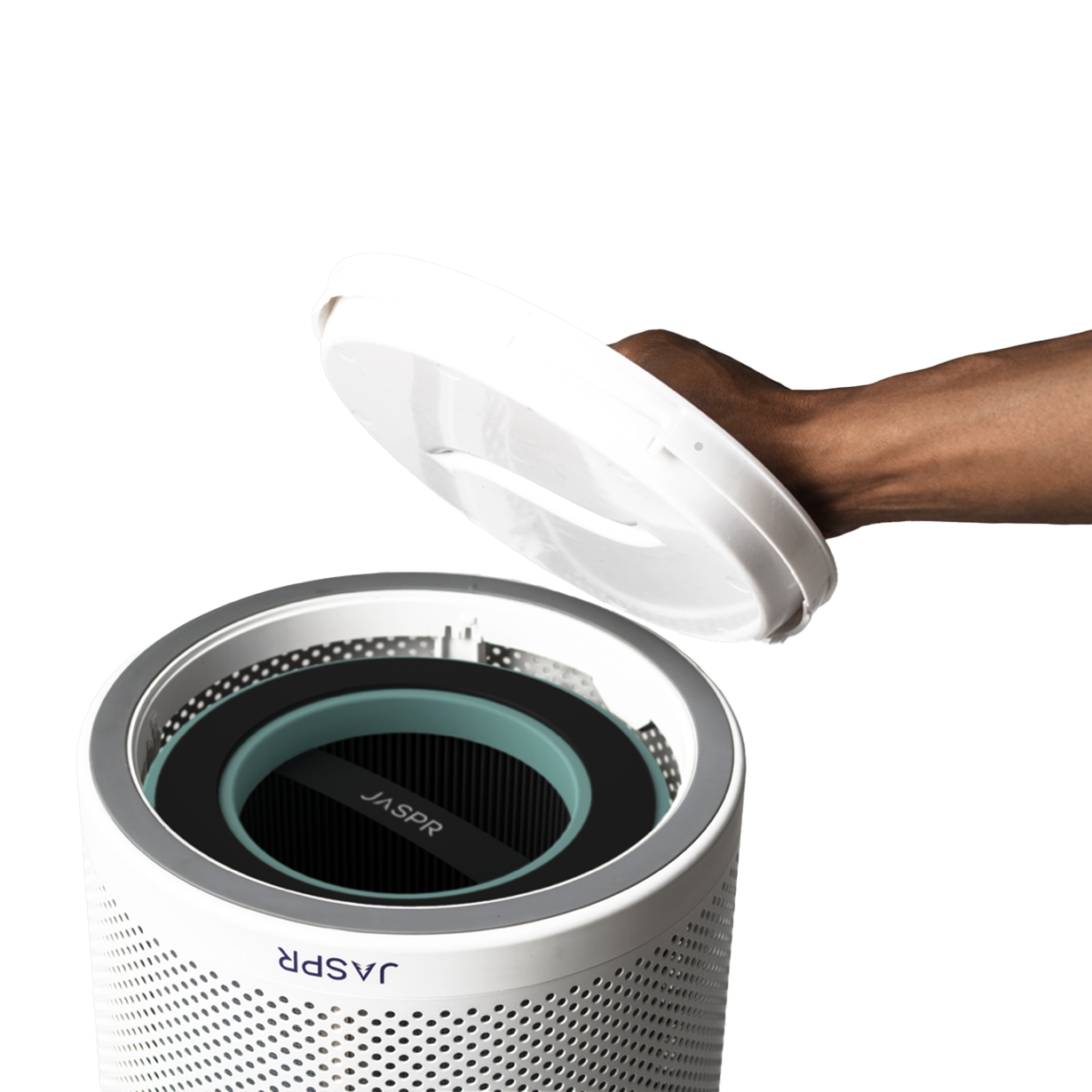 Indoor air — more polluted than we think.
Investing in qulity air purification isn't just about comfort, it's about protecting your family's health and well-being.
We spend 90% of our time indoors, where the air can be up to ten times more polluted than outside.
Modern homes are efficiently airtight, trapping harmful contaminants from cooking to personal care products.
Pet dander, hidden mold and indoor allergens can exacerbate asthma and allergy symptoms, impacting sleep and daily activities.
Chronic exposure to indoor pollutants is linked to severe health conditions like cardiovascular disease and cancer.
The majority of your exposure to outdoor air pollution actually occurs from the air you're breathing indoors.
Take control of your health with the world's best air purifier
The Jaspr Pro reacts and removes harmful pollutants from your air - improving your overall well being and empowering you to think, feel and perform at your best.
Improves fatigue and overall health

Real-time air quality monitoring

Modern Design

Whisper Quiet
Smart sensors adapt airflow in real-time

Filters >99% of Pet Dander

30 Second Filter Changes

Large Coverage Area
Touch display with real-time air quality monitoring

Touch display with real-time air quality monitoring
Touch display with real-time air quality monitoring

Touch display with real-time air quality monitoring

Touch display with real-time air quality monitoring

Touch display with real-time air quality monitoring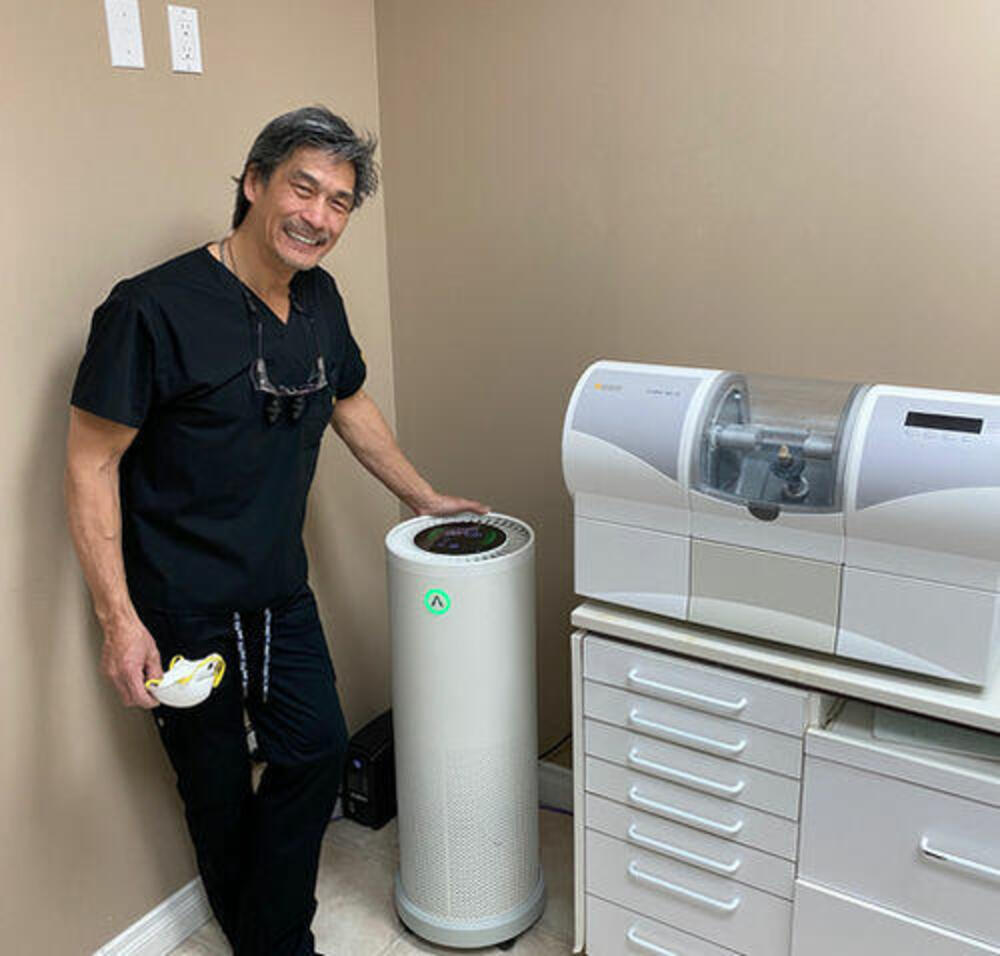 Powerful filtration trusted by doctors & dentists.
Jaspr's best-in-class filtration system is trusted by dental clinics and doctor's offices nationwide due to its high-efficiency 3-stage Activated Carbon and gold standard HEPA filters. 
Jaspr's filter captures an impressive 99.97% of particles as small as 0.3 microns, underlining its efficacy in removing various airborne pollutants.
 
Cleans even the finest particles like odours bacteria, smoke, viruses and harmful Volatile Organic Compounds (VOCs) .
Commercial-Grade

Air Cleaning Power In Your Home

Jaspr boasts a Clean Air Delivery Rate (CADR) of over 600. For a room measuring 300 sq.ft. with 8-ft ceilings, Jaspr cleans the entire volume of air over 7 times every hour.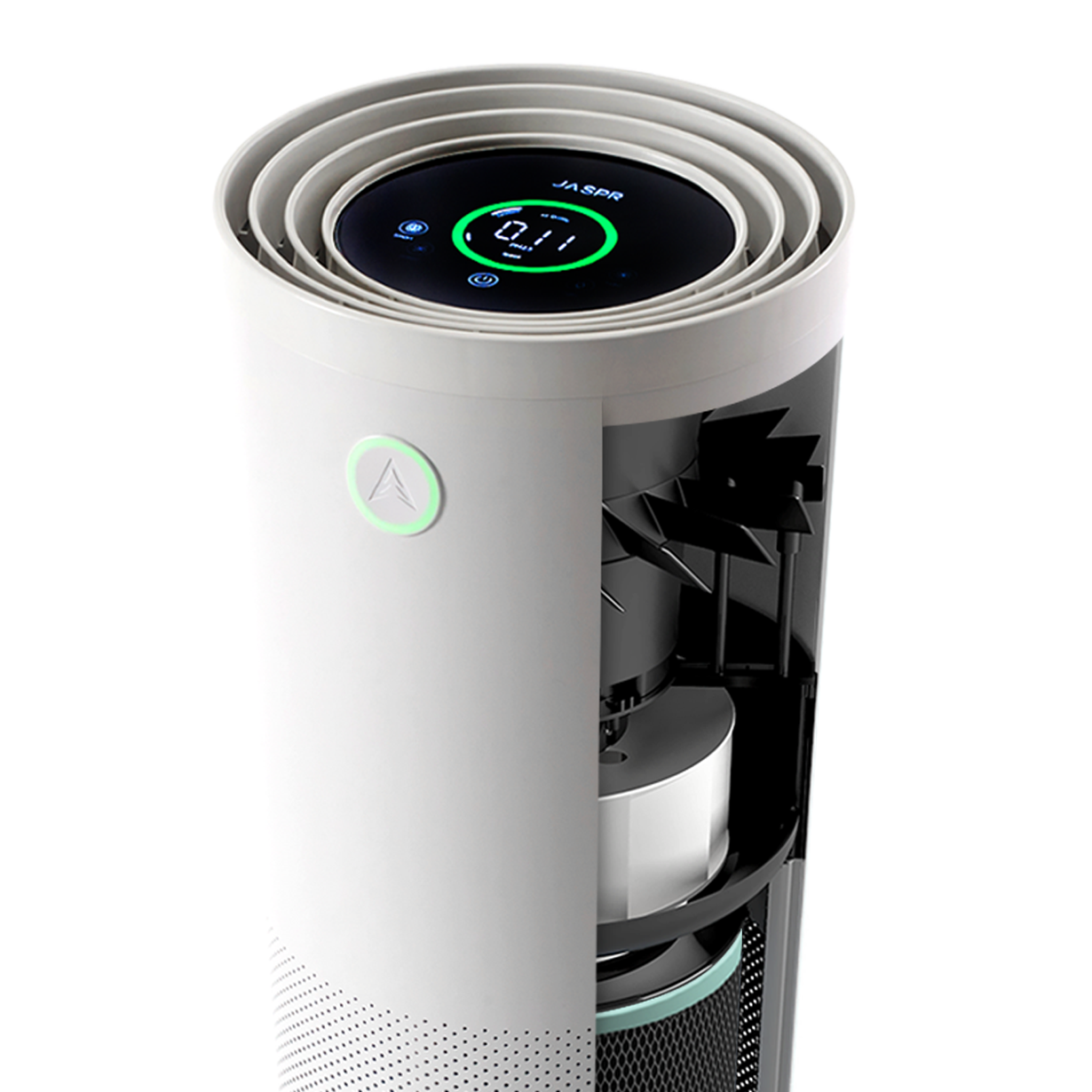 Improve Your Air Quality, Improve Your Life.
Clean air isn't just adding years to your life, it's about adding life to your years.
Respiratory issues not only disrupt sleep, but also drain your daily energy and cloud your focus.  
Prolonged exposure to polluted air has been linked to serious health conditions, like cardiovascular disease and cancer. Prevention is always the best solution.
By purifying your home's air, you're gifting yourself better sleep, heightened productivity, and relief from asthma and allergy symptoms.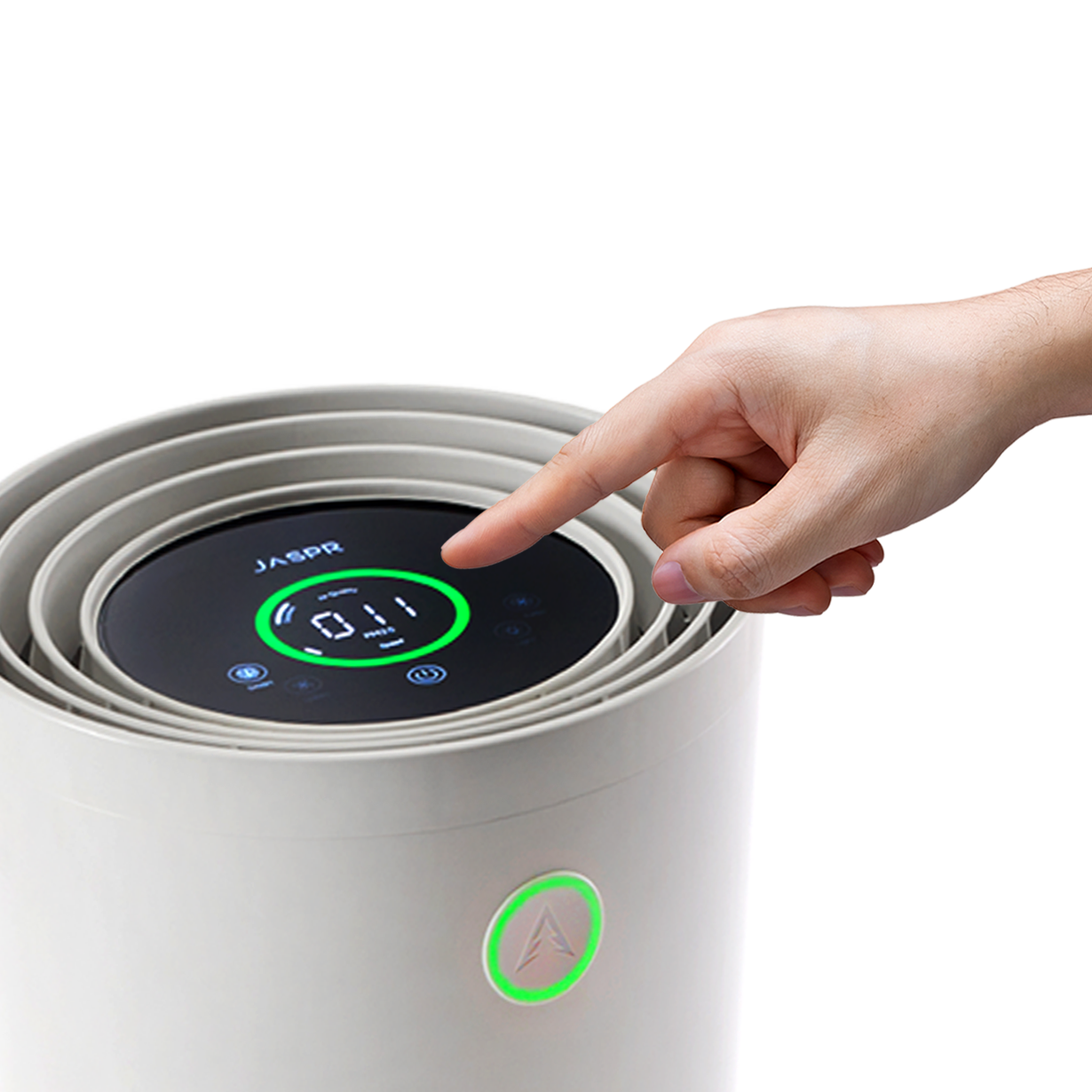 Smart Sensor Technology For Real- Time Protection
Jaspr's state-of-the-art sensor technology monitors your air quality and reacts immediately.
Jaspr detects benzene, alkanes, aromatics, olefins, halohydrocarbons, esters, aldehydes, and ketons. Jaspr filters these, plus an even greater range of other particulates.  
Senses fumes from cooking, and increases airflow automatically, removing odors.  
Displays real-time air quality feedback on-screen.
Order Jaspr Today
Lifetime warranty on all parts
Life-changing results, guaranteed.
Third party performance-tested
Energy Star certified
Low EMF (no wifi or bluetooth)
If you're not absolutely thrilled with Jaspr for any reason within the first 30 days, we offer a full money back guarantee.
Lifetime warranty on all parts

Automatic Filter Replacement Service

Free shipping to U.S and Canada

Hassle-free money-back guarantee
See for yourself:

your air with Jaspr Pro VS without it

The Jaspr Pro air purifier removes 99.97% of airborne particles such as viruses, bacteria, dust and allergens, improving the quality of the air you breathe.
Frequently Asked Questions
Due to the home efficiency movement in the 70s, houses today are built like tight boxes, and that causes a number of problems that all result in bad air quality. First, a tight construction means poor ventilation. That's great at keeping your heated or cooled air in, thereby keeping your utility bills down, but it's terrible for trying to vent any pollutants out of your home. And there are many of those: VOCs from household products, mold, dust, pet dander, and cooking fumes. Not to mention all the outdoor air pollutants and pollen that your HVAC pulls in.
Your HVAC filter is equipped to capture some large particles, like dust. But it's designed to keep your HVAC system in good condition, free of particles that might lead to wear and tear. When it comes to purifying air, it makes very little difference.
Yes. When humidity is too high, it becomes easy for mold and dust mites to multiply. However, when it is too low, it can dry out the mucous membranes in your nose, eyes, and mouth, which your body relies on as its first line of defense against viruses and bacteria. The EPA recommends people keep indoor humidity levels between 45-55%.
Yes! Jaspr air purifiers use advanced filtration technology with activated carbon filters to neutralize pet odors and high-efficiency particulate air (HEPA) filters to capture pet dander and allergens.
Just set it to smart mode, and Jaspr will automatically adjust its filter speed based on changes in your air quality. At night, try fan speed 2 with dark mode for a little white noise while you sleep.
At 30 dBa, Jaspr is literally as quiet as a whisper on its lowest setting. On its highest setting, it reaches 60 dBa, which is like the hum of your refrigerator.
UV light needs 6-60 seconds of consistent exposure to destroy >99.9% of a virus or bacteria, but air flows through a filter in about .35 seconds. Making UV light in air purifiers completely ineffective. Not only that, but UV can actually be harmful, as it causes oxygen (O2) to break apart, generating ozone (O3), which is a dangerous air pollutant. Exposure, even briefly, can cause respiratory issues and serious health conditions.
HEPA stands for high-efficiency particulate absorbing [filter]; these filters capture 99.97% of particles as small as 0.3 microns in size, effectively taking care of pollutants in the PM2.5 category. But there are different grades of HEPA filters, and Jaspr's filter goes above and beyond, capturing particulates as small as 35 nanometers (0.035 microns) at a rate of 99.7%, which means that if 1000 particles of this smallest size entered the filter, one to three particles might make it through to the other side.
Jaspr's sensor detect PM2.5 and TVOC.
Better build quality, longer lifespan, recycable.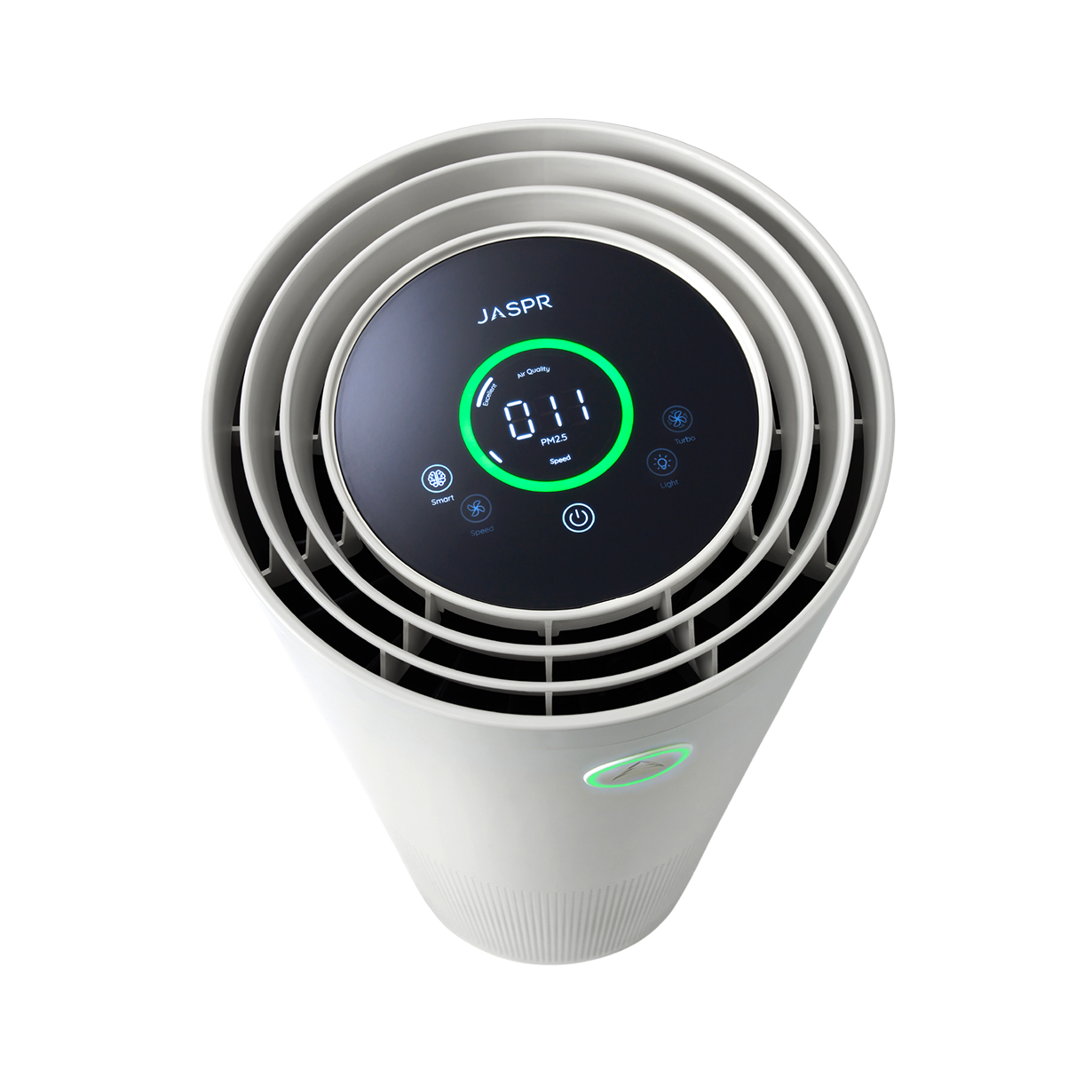 Life Changing Guarantee
30 Day Money Back Guarantee
If Jaspr isn't noticeably changing your life in 30 days, we will give you a 100% refund, no questions asked. (Please save the box).
Take the Test