It's what inside that counts.
Regular price
$0.00
Sale price
$199.00
Unit price
per
Sale
Sold out
Jaspr Pro Air Purifier's Heavy-Duty Replacement Filter: The ultimate 3-in-1 air purification solution. With a substantial weight and large surface area, this filter removes 99.97% of allergens and pollutants, delivering unmatched fresh air to your space. Lasting 6 months.
By signing up for Filter Club your lifetime warranty will be automatically activated.
Easy, 1 min filter replacement

3-step filter system

Worry-free subscription
Specification

Coverage: up to 1,600 sq.ft. with 8-ft ceilings
Power: 73W, 1A
Rated Voltage: 100 - 120V, 60 Hz
Sound Level: 33 dBA (whisper) - 58 dBA
Filter Lifespan: up to 6 months
Efficiency: captures 99,9% of particles ≥ 0.15 microns
Effectiveness: 430 CFM airflow rate for max output
Dimensions: 31.5 in x 11.5 in (80 cm x 29.2 cm)
Weight: 25 lbs (11.34 kg)
View full details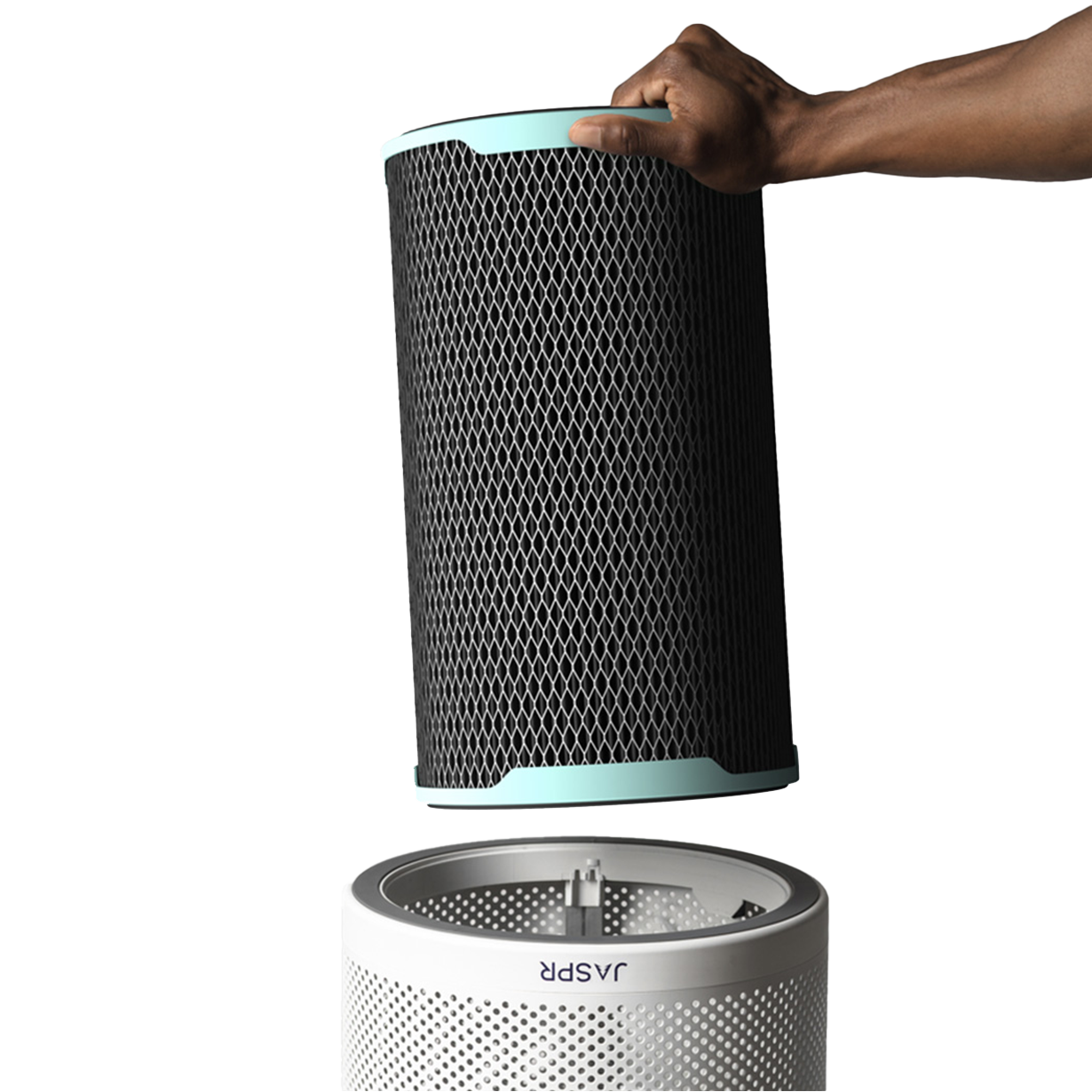 Sometimes

bigger is better

Most filters are so small that they can't capture much particulate, and they've packed so much into their filters to compensate that, they end up choking airflow. When it comes to air filters, size matters. And the Jaspr Pro's filter is bigger than some companies' entire machines.

Filter Efficiency
Air filter efficiency refers to the percentage of particle capture.

Filter Efficacy
Air filter efficacy is how much airflow passes through the filter.

Effectiveness
Efficiency x efficacy = effectiveness. And the Jaspr Pro filter is 99.97% effective.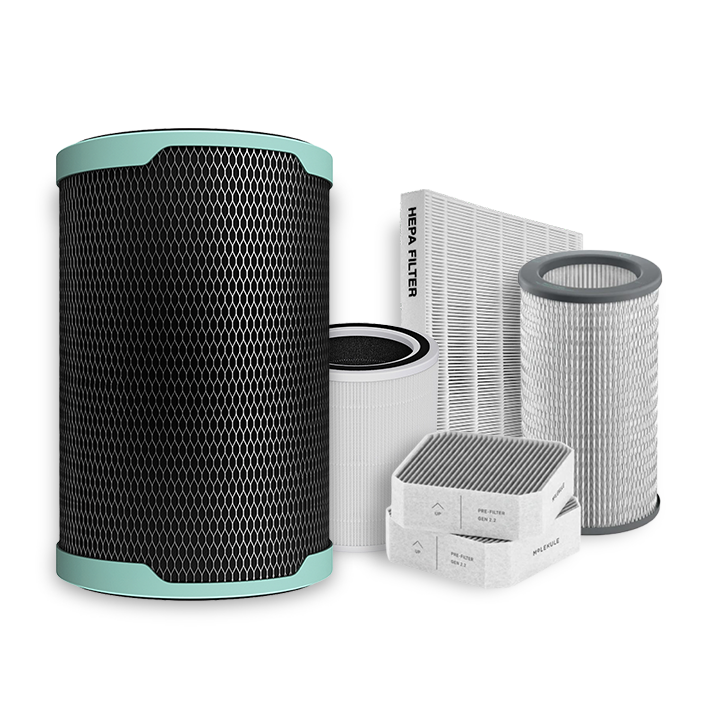 An air filter that is
at the top of its engineering class
Explore Jaspr Pro's features and see for yourself why Jaspr is the ultimate air purifier you need to protect your loved ones from environmental pollutants from your air.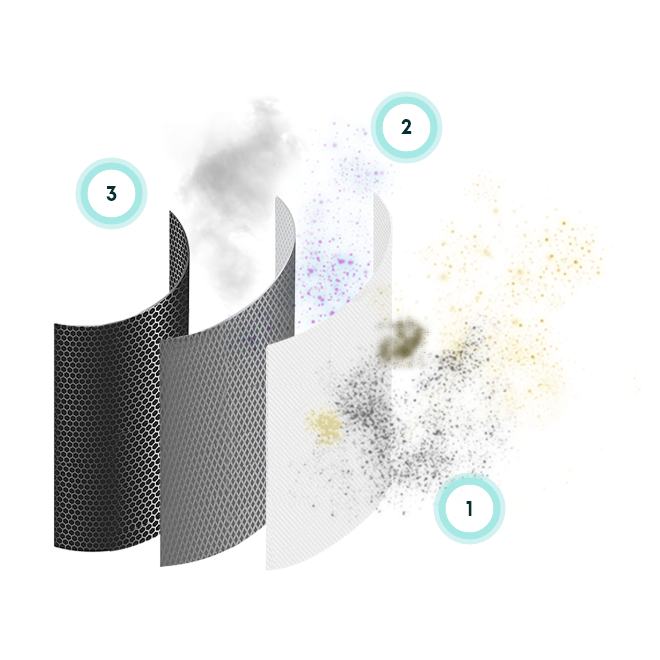 The prefer filter not only captures a significant source of irritants, but also protects the fine particulate filter from damage, which increases longevity and effectiveness.
Our carbon filter is interlaced within our HEPA filter, capturing and binding to gaseous pollutants like formaldehyde and neutralizing odors.
The gold standard for air filtration, the HEPA layer captures viruses, bacteria, mold and many other airborne particles. If an intake of air containing 10,000 particles of 0.3 microns in diameter passed through a HEPA filter, a maximum of only 3 out of the 10,000 particles would be allowed to pass through the filter.
Join Filter Club,
get lifetime warranty and save $100

on new filters

Filter Club is our filter subscription program. By subscribing you get lifetime warranty for your Jaspr Pro plus save $100 on every replacement filter.

Join today!
FAQs
Filter Club and lifetime warranty
Frequently questions answered about our filter replacement subscription program and air purifier warranty.
When you buy a Jaspr, you can choose to opt into automatic filter replacements every 6 months. Your card will only be charged when each filter ships, members receive a $100 discount on each filter.
Filterclub automatically activates your lifetime warranty. This means if anything ever happens to your Jaspr, we will replace it free of charge (we cover the shipping both ways too)
You'll automatically receive a new filter every 6 months.
You can cancel anytime. You can also pause or delay a shipment.
Neglecting to replace the 3-in-1 filter in your air purifier as recommended can lead to several issues, including reduced air purification efficiency and compromised indoor air quality. The filter, which includes a HEPA filter, a carbon filter, and a pre-filter, gradually becomes clogged with dust, allergens, pollutants, and odors from the air. As a result, the carbon filter's ability to adsorb odors and harmful chemicals diminishes, and the overall performance of capturing airborne particles is hindered. This could lead to worsening air quality and potential health concerns, particularly for individuals with allergies or respiratory conditions